It throbs.  It aches.  You haven't got a good night's sleep in a couple of days.  You know the pain is coming from one of your teeth.  Putting off a visit to the dentist is no longer an option.  This could be a dental emergency.  These emergencies can manifest themselves in so many ways from breaking a tooth, to pain, to swelling, to bleeding.
What is a Dental Emergency?
What constitutes a dental emergency can be different depending on the person.  To one person an emergency might be extreme swelling and pain while to another person an emergency would be a veneer popping off.  Most often the primary indicator of a dental emergency is pain or trauma to a tooth.  Tooth pain or trauma is a small portion of the problems that would constitute a dental emergency so we will take a look at what some of those are.  First, let's cover pain and trauma.
What Causes Tooth Pain?
Tooth pain is most often caused by the nerve of the tooth being hurt in some way.  This can be from a tooth fracture that exposes the second layer of the tooth or the nerve itself.  The second layer of the tooth, called the dentin, has nerve endings in it that can cause extreme sensitivity to cold and hot when exposed. When a large cavity reaches the nerve, it will cause an infection and is quite painful.  Any form of trauma to a tooth that causes the nerve to become inflamed will result in tooth pain.  It is quite amazing how a small nerve in a small tooth can cause so much pain.
What is Considered Tooth Trauma?
A big fear people have is that they will knock a front tooth out of their mouth.  This is called avulsion.  When you knock a tooth out, the best thing you can do is quickly put it in some milk, call your dentist, and hopefully see him within 1 hour.  When a tooth is reinserted within one hour, the success of the tooth and nerve reintegrating back into the socket is improved.  After one hour, the success rate goes down and the need for a root canal is guaranteed.  An important thing to remember is that the tooth must cleanly come out.  If the tooth is fractured or broken, it can't be put back in the socket.
Not all tooth trauma involves breaking or knocking out a tooth.  The tooth can be driven further into the mouth.  When a tooth is traumatized, it can stay exactly where it is, but instantly causes the tooth to die or starts the dying process.  A dying tooth can be painful but a dead tooth is not, however, both require a root canal to save the tooth.
Are Tooth Infections Serious?
A tooth infection is one of the few instances where a problem with a tooth could result in serious harm or even death.  Every year in the United States there are individuals who ignore a dental infection and die because of it.  What started out as a simple problem eventually became a serious problem that wasn't treated in time.  Often times the problem starts as a small cavity or simple form of gum disease.  The small cavity turns into a big cavity, the big cavity reaches the nerve, the nerve is now infected and infects the bone and gums, the infection then grows and spreads below the chin, and then the airway closes and the person dies.  All this because of a small cavity.  The picture below shows an infection below the chin that needs immediate treatment.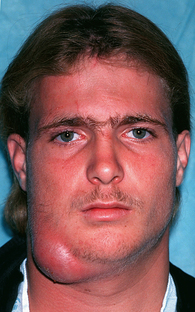 https://pocketdentistry.com/23-spread-of-dental-infection-in-the-head-and-neck/
The picture below outlines a case that could have turned serious.  A patient came in to my Austin, TX office because of tooth pain and reported a swelling on the roof of the mouth.  When doing the exam, there was a lump about the size of a large grape in the very back of her mouth.  The lump was an infection caused by a wisdom tooth that hadn't poked through.  The lump had to be opened up and drained, then stitches put in.  Luckily for the patient, it never progressed to something more serious.  This was a classic example of when to call the dentist and schedule an emergency appointment.
If you have a dental emergency, give North Austin Dentistry a call.  Dr. Logan Miller goes to great lengths to work emergencies into the schedule that same day or as soon as possible.  He also makes himself available on Fridays and Saturdays for emergencies.  After hours, the office phone is forwarded to his personal number so he can take your emergency phone call.  Don't wait, call North Austin Dentistry today to schedule an emergency visit.